TAKE CHARGE OF YOUR RECOVERY AFTER KNEE SURGERY.
The key to recovery is developing the right mix of therapies and rehabilitation programs to get you back to your normal life as completely and quickly as possible.
Download our checklist of
10 critical questions to ask your recovery center
Our Center specializes in helping patients who have had hip and knee replacements, have had fractures, shoulder and spinal surgery, get back on their feet and doing the things they love after orthopedic surgery.
Through our exclusive LifeWorks Rehab program and personalized approach to therapy, our goal is to help each patient regain function and return home safely as quickly as their recovery allows. Our skilled interdisciplinary team includes physical, occupational and speech therapists, nurses, and dietitians.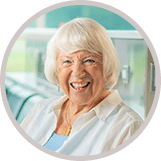 From double knee replacement to travelling the world
The LifeWorks Rehab program was an ideal fit for me. I'm very active and love to travel. It was important to me to be able to continue doing the things I love to do, and my LifeWorks Rehab therapists really pushed me to make the strongest recovery I could make.
Disclaimer: There is no guarantee of specific results and individual results may vary.

Planning questions?
We've got straight answers.
Sign up for our Planning Series and get access to everything you need to know about planning and preparing for recovery after a surgery or illness.